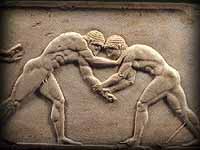 Top
The insertive partner in anal penetration.
"Top" can be used as a noun or a verb: he's a top; or, he tops -- that is, takes the insertive role during anal penetration.
Synonyms: butch, daddy, dominant, master.
See also Dom/Sub
---
© Copyright 2011 by Bill Weintraub.
All rights reserved.