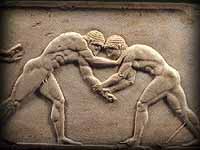 Athlos
Ancient Greek word meaning a contest -- an agon -- either in war or in sport.
And which thus well illustrates the Greek philosopher Heracleitus' idea that "Strife is the Father of Everything."
As classicist Eric Segal points out:
[T]o some historians -- notably the Swiss Jakob Burkhardt (1818 - 1897) -- this "agonal drive" was the key to understanding an entire mentality. In his unequivocal words, "All Greek life was animated by this principle."
As Segal says, then, athlos "could mean a contest taking place in a stadium or on a battlefield."
While an "athletes" could be a prize-fighter, a boxer, or a combatant; and only latterly, an athlete, or a champion.
So the ancient Greek word from which we derive our words for athletics and athlete refers first and foremost, in Greek, to Fighting and Combat.
There are many words in Greek like athlos:
AGON -- meaning contest, struggle, battle.

From AGON comes the word agonia --

Which the standard Greek-English Lexicon (Liddell) defines as "1. a struggle for victory; 2. gymnastic exercise, wrestling; 3. of the mind, agony, anguish."

Also from AGON comes agonistes -- combatant, rival -- and of course, antagonistes.

Then there's MACHE -- a battle, fight, combat.

All sorts of words are derived from MACHE.

Including machetes -- warrior.

And boulo-machos -- strife-desiring, or, looking for a fight.

And many proper names meaning fighter -- such as Nikomachos -- Victory Fighter; and Lampromachos -- Splendid Fighter.

HAMILLA -- a contest for superiority, rivalry; a struggle, conflict.

Plutarch, in describing the Spartan Agogé, says

the boys were constantly watched by their elders, who were always spurring them on to fight and contend with one another; and in this way learned accurately how each one of them was naturally disposed when it was a question of boldness and aggressiveness in their struggles.

and the Greek for "in their struggles" is en tais hamillais.

Plutarch also talks about the older boys supervising the younger "en tais machais" -- in their fights.

In their struggles, in their fights.

MACHE -- and

HAMILLA -- which also gives us the word hamilleter -- competitor, rival.

ERIS -- strife, quarrel, debate, rivalry, contention.

Xenophon, also describing the Agogé, speaks of a Strife or Rivalry [eris] -- of Valour and Virtue [areté] -- in which groups of nude young men compete, through Fighting, to show which will be most valorous in defending Sparta.

ARES -- the God of War; but which can also mean simply war itself.

As we've much talked about, many, many words are derived from ARES, including Areté, meaning Manhood: Manly Excellence, Manly Goodness, and Manly Virtue ; and many words with the ari or "best" prefix, such as aristo-kratia -- rule by the best -- and aristeia -- heroism.

Because, as is explained in Liddell and Scott's Ancient Greek Lexicon:

From the same root [ARES] comes areté [Manly Virtue, Manly Excellence, Manhood] ... the first notion of goodness being that of manhood, bravery in war; cf. Lat. virtus.

And, Liddell and Scott re-inforce that point by saying that areté is

goodness, excellence, of any kind, esp. of manly qualities, manhood, valour, prowess, Hom., Hdt. (like Lat. vir-tus, from vir).

And Ares and Warrior are basically synonymous.

For example, on this site we frequently refer to Ares, The Warrior God.

In Greek, that would be Ares, ho [the] Theos [God] Areion [Warrior].

And root words such as Ares and Mache are combined into words like aristo-machos = best fighter, best in battle.
---
See also
Agogé; Agon; Areté; Natural masculinity; and Natural male sex aggression.
---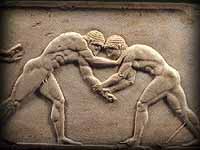 © Copyright 2013 by Bill Weintraub.
All rights reserved.