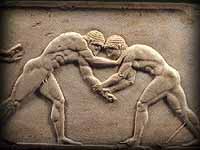 Virtue vs hedonism: The Debate in Plato's Gorgias
The great Greek philosophers Sokrates and Plato spent a lot of time debating and defeating the hedonists of their day.
Plato wrote three very powerful books detailing that debate, beginning with the Protagoras, continuing in the Gorgias, and culminating in the Republic, one of the most important works of Western literature.
In the Gorgias in particular, Sokrates identifies hedonism -- the ruthless pursuit of pleasure over Virtue -- with those who in his day, engaged in anal.
And since anal was proscribed -- forbidden -- by the Greeks, he uses that fact to defeat the hedonists.
Here's the debate -- the hot-headed hedonist is a guy named Callicles, and he's debating Sokrates:
Socrates. Come now, let me tell you another parable:

Consider if each of the two lives, the temperate and the licentious, might be described by imagining that each of the two men had a number of jars; the one man has his jars sound and full, one of wine, another of honey, and a third of milk, besides others filled with other things, and the sources which fill them are scanty and difficult, and he can only obtain them with a great deal of hard toil. Well, one man, when he has taken his fill, neither draws any more nor troubles himself a jot, but remains at ease on that score. The other, in like manner, can procure sources, though not without difficulty; but his vessels are leaky and unsound, and night and day he is compelled to fill them constantly, and if he pauses for a moment, he is in an agony of extreme distress. If such is the nature of each of the two lives, do you say that the licentious man has a happier one than the orderly? Do I not convince you that the opposite is the truth?

Callicles. You do not convince me, Socrates, for the one who has filled himself has no longer any pleasure left; and this, as I was just now saying, is the life of a stone: he has neither joy nor sorrow after he is once filled; but a pleasant life consists rather in the largest possible amount of inflow.

Soc. Well then, if the the inflow be large, must not that which runs away be of large amount also, and the holes for such outflow be of great size?

Cal. Certainly.

Soc. The life which you are now depicting is not that of a dead man, or of a stone, but of a plover [a bird thought to drink and then to eject the liquid]; you mean that he is to be hungering and eating?

Cal. Yes.

Soc. And he is to be thirsting and drinking?

Cal. Yes, that is what I mean; he is to have all his desires about him, and to be able to live happily in the gratification of them.

Soc. Capital, excellent; go on as you have begun, and have no shame; I, too, must disencumber myself of shame: and first, will you tell me whether you include itching and scratching, provided you have enough of them and pass your life in scratching, in your notion of happiness?

Cal. What a strange being you are, Socrates! a regular stump-orator.

Soc. That was the reason, Callicles, why I scared Polus and Gorgias, until they were too modest to say what they thought; but you will not be too modest and will not be scared, for you are such a manly fellow. And now, answer my question.

Cal. I answer, that even the scratcher would live pleasantly.

Soc. And if pleasantly, then also happily?

Cal. To be sure.

Soc. But what if the itching is not confined to the head? Shall I pursue the question? And here, Callicles, I would have you consider how you would reply if consequences are pressed upon you, especially if in the last resort you are asked, whether the life of a catamite is not terrible, shameful, and wretched? Or would you venture to say, that they too are happy, if they only get enough of what they want?

Cal. Are you not ashamed, Socrates, of introducing such topics into the argument?

Soc. Well, my fine friend, but am I the introducer of these topics, or he who says without any qualification that all who feel pleasure in whatever manner are happy, and who admits of no distinction between good and bad pleasures? And I would still ask, whether you say that pleasure and good are the same, or whether there is some pleasure which is not a good?

~translated by Jowett and Lamb
So: Socrates asks, "Is there some pleasure which is not a good?"
And the word "catamite" in the original Greek is kinaidos, that is, one who is anally passive, and/or who participates in anal penetration.
That is, an analist.
"Is there some pleasure which is not a good?"
Anal.
The life of an analist, says Sokrates, is "terrible, shameful, and wretched."
And Callicles doesn't dare disagree with him.
Because the cultural prohibition against anal is too severe.
I have no question that privately, Callicles thinks anal is okay.
That to his mind, "If it feels 'good,' do it!" and "It's all sex and it's all good!" -- are imperatives.
But he doesn't dare say so -- regarding anal.
Because again, the cultural prohibition against anal is too severe.
So:
The Greek and thus Western prohibition against anal penetration plays a huge role in one of the pivotal ethical debates -- of our civilization.
---
See also Areté; Agogé; Agon; and Athlos.
---
Interested readers may also find this Man2Man Alliance article informative:
---
And for further discussion of the hedonistic dominant culture of anal penetration and the Alliance's virtuous alternative, see our policy paper Multipartnered Pansexualism or Heroic Love?
---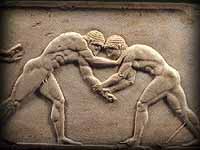 © Copyright 2012 by Bill Weintraub.
All rights reserved.