I'm reminded of the neighborhood boy game...out to the fields and trees of undeveloped land that was our playground - spots not visited by anyone but boys where we would drop our pants in the sunshine and rub cockheads together...we must have been all of 7,8 and nine. Then there was the older boy with pubic hair who visited. We lined up to rub our pricks on his erect red cockhead. Summers were full of mutual stimulation and trips to "the fields".
After puberty, it only got better as mutual jack-off friendships were the norm. After all, we had been rubbing each other for years. There was the one-balled guy, the uncut kid who grew to 8 1/2", the little guy at 4" - my first blow job.
Overnites were wrestling matches of frottage in jockeys, before dripping dicks came out for unclad rubbing. Thanks for bringing back fond memories...
Posted 4/4/01 by Warrior Samuel
I can remember my first time with my buddy...cock rubbing between friends is the greatest. We went to a motel. He said he wanted to take me somewhere special. We got into bed and began a long hot passionate time rubbing our bodies together. Our cocks were hot like fire and we came, we did it together...it was absolutely fantastic! Our hot sweaty bodies on each other, our cum all over our bodies. We just laid there in ecstasy! We couldn't move..it was so grand! It truly was indescribable...and delicious!
---
COCKRUB WARRIOR JoePC

MY FIRST EXPERIENCE
Posted 11/6/00 by joe_pc
I just discovered this site, and am very happy to know that other guys share my feelings. I want to share with you my first experience: A long long time ago...... When I was 17 years old, my folks moved away to a different city, and since I was still in high school at the time, I managed to persuade them to let me finish my senior year at my old high school. I found a place to stay with some friends of our family whose son is a year younger than me. We had always been pretty close friends, and we enjoyed hanging out with each other. Since we shared a bedroom (Randy had twin beds in his room), we were already pretty familiar with seeing each other in various stages of undress, and i was always eager for a glimpse of him naked. I tried to be as discreet as possible because I wasn't sure if Randy would appreciate my stares. On night as we were getting ready for bed he noticed me looking at him, and he smiled and said, "I bet you'd like to see me naked, huh?" "I guess so." I replied, trying to not let my excitement show. "Well, I have to see you naked too!!" Randy said as he stripped off his briefs.
I couldn't believe this was happening, and i pulled my shorts off . We stood before each other naked, admiring each other's bodies. He was so hot looking, that I immediately started to get a hard-on. Randy laughed and said "you look like you need to jack off, I know I do." He started rubbing his hardening cock, i smiled at him and started stroking my now rock-hard dick. "Sure feels good." I said, "I wonder what it would feel like if we jacked each other off?"
Randy smiled and said "Lets find out!" I moved over to his bed and sat next to him, reached over and took his cock in my hand, while he did the same to me. The feeling was so intense, we both moaned at the same time. We sat stroking each other for a little, our legs pressed together. Suddenly Randy leaned over and kissed me, my head was spinning, I had wanted to do this in my fantasies and now it was happening. Randy, looked into my eyes, and said, "Hey Joe, I have an idea that i think we would both get off on: let's rub our dicks together. I wanna feel your cock on mine."
I nearly came right then, as i found the suggestion so erotic. I pulled Randy to me, and we lay on our sides, face to face. I began rubbing my cock against his, moaning softly. He responded by thrusting agianst me so hard, that our balls slammed together. We humped together faster and faster, our chests rubbing together too. It was such an intense sensation, that I couldn't hold back any longer: I came with such force that my cum soaked our chests and bellies, I grunted with release, and that set Randy off, his cock shooting his load between us. We lay there panting from our exertion, then we kissed again. I smiled at Randy and said "wow man, I never expected that when i came to live here!"
He laughed and said, "Joe, I've wanted to do this with you for a long time, and now we can do it whenever we want!" There were many more episodes after that, and we would sometimes rub all night when his parent went away for ski weekends.
I hope you all enjoyed reading this. I still remember those times very fondly, and the first time was one of the most erotic experiences of my life. Since then I have been a confirmed frotteur.
Reply from Brad
Hey, Joe, Thanks for the hot reminiscence...it got me both hard as a rock and wistful about all the dreams of frottage I had when I was 17...I even wrote a private mini-porn novel in which I got to grind cocks with the other hot dudes I knew...thanks for letting me relive the dream! Hope we can share more experiences like that. Keep rubbing.
Brad
---
COCKRUB WARRIOR VIC LOGAN

MY FIRST FROT EXPERIENCE
Posted 10/25/00 by BigBearCockfighter
Hey dude: I'm glad and thankful to you for sharing this story with us, man! I remember my own first sexual experience with another man, a fellow college student, which was somewhat similar to yours. We spent the whole night rubbing our bodies and our cocks together and it was sheer bliss.
Like you, I didn't know what to call the kind of sex that turned me on either, but I always preferred cockrubbing and frot to fucking. Naturally as I came out in the gay world and met other men my kind of sex wasn't always what other guys sought. And sometimes I had to endure putdowns or that wonderful phrase, "Is that all you want to do?" from guys who wanted either to fuck or be fucked.
The point is, a lot of us find frot and body- or cockrubbing erotic, exciting, fantastically so. It's vibrant, healthy, and just as valid as any other kind of sexual expression.
Thanks for sharing this story and here's hoping you are finding your kind of fulfilment your way.
Vic
---
COCKRUB WARRIOR NYBOX43

FIRST FIGHT/FROT EXPERIENCE
Posted 12/6/00 by nybox43
For over 10 yrs. I claimed I was afraid of STDs as an excuse not to engage in actual copulation. Truth is I didn't enjoy it; I preferred hard m2m contact as expressed in boxing or wrestling or the horsing around and comroderie of the gym. Fighting turned me on and my erogenous zone was my perineum- between my balls and butt. When pacticing at the heavy bag I'd feel sparks of excitement and teasing pleasure in this g-spot.
Thru a website I hooked up w/ another man who had a boxing gear fetish and preferred mutual jo or frottage.
We geared up, boxed and wrestled and enjoyed the hard contact, the give and take of body punches. Sometimes I would take control of the fight, mount him in submission and work him over with my gloved fists. Feeling his hot hard dick under my dick sent me into orbit. I would then ride my ass over his conquered manhood as I continued delivering threats and punishment. He would buck me, turn the tables and get even, straddle me schoolboy pin style, grinding his dick onto mine. Feeling his hot muscled hairy legs wrapped around mine, with the weight of his body over me, pressing his crotch down over me was ecstacy. When we climaxed it was part of the fight, from a sense of masculine triumph.
I am grateful to this site and others like it.
nybox43@hotmail.com
Reply from Warrior HOTDICKHEAD
Hey. I totally understand this feeling. Dick on dick is everything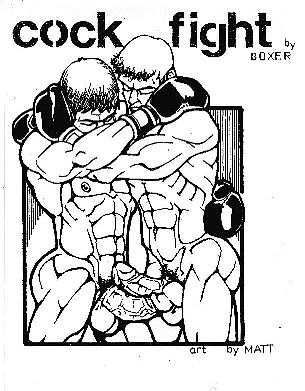 ---
COCKRUB WARRIOR G/RMusclerTor

Greco-Roman Buddies
Posted by G/RMusclerTor
Thanks for the memory, sure makes me feel my frottage/muscling sexuality is acknowledged and understood. If there's one thing we all seem to have in common is this sense of being misunderstood at this basic sexuality level. My first frott experiences were centred on greco-roman knuckle locks with buddies in the neighbourhood and guys in speedos at the swimming pool. You could get a straight guy to muscle with you and most of the time wouldn't "notice" your enormous hard-on.
If I kept the knuckle lock action moving around, I could eventually nail the guy's cock against a wall, slam and grind my hairy chest into his, and cum in my speedo. It wasn't til much later did I discover the joys of ball-to-ball slams.
Thanks for the chance to relate
Savage Warrior Paul's profile:
I'm a 52 yr old GWM, 5'10", 170lb., good shape, handsome and hairy, who lives for fantasy muscle struggles (eg., Greco Roman knuckle Lock, Referee's lock up in pro wrestling) focused on chest slamming, ball slamming, dick fighting, tied ball-to-ball, cock rubbing. Don't usually get past the grunting, growling lock up before we cum on each other's hairy abs and chests. Have my own place in Toronto, but will travel for the right cock fight.

AND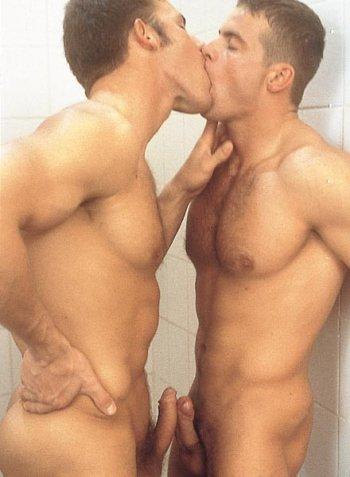 ---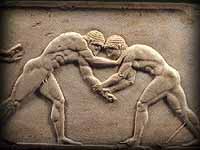 | What's Hot About Frot | Hyacinthine Love | THE FIGHT | Kevin! | Cockrub Warriors of Mars | The Avenger | Antagony | TUFF GUYZ | Musings of a BGM into Frot | Warriors Speak | Ask Sensei Patrick | Warrior Fiction | Frot: The Next Sexual Revolution |
| Heroes Site Guide | Toward a New Concept of M2M | What Sex Is |In Search of an Heroic Friend | Masculinity and Spirit |
| Jocks and Cocks | Gilgamesh | The Greeks | Hoplites! | The Warrior Bond | Nude Combat | Phallic, Masculine, Heroic | Reading |
| Heroic Homosex Home | Cockrub Warriors Home | Heroes Home | Story of Bill and Brett Home | Frot Club Home |
| Definitions | FAQs | Join Us | Contact Us | Tell Your Story |


© All material on this site Copyright 2001 - 2010 by Bill Weintraub. All rights reserved.