Frat Brother, Frot Warrior
7-24-2005
Bill, what great fortitude you have launching this incredible site, I only wish it had been around a long time ago. I thought you might want to hear my story, I am looking to find someone that can share my love of Frot:
I can remember my one and only cock2cock to adventure, in College, a frat brother got a little over-served at a rodeo, and I tried to take him back to the frat house, but he argued incessantly about partying on. He finally realized he couldnít go on, but didnít want to go back to the house; he wanted to crash at my apt. I had a great place off campus, in a new townhouse style apt, complete with Fireplace and king-size waterbed. It was past midnight and the temperature had dropped sharply, it had just started to snow, and I was driving his Jeep, he had of course left the top off, and I can still feel the sharp tingling sensation of the snow as it hit my flush face. In the parking lot, I tried rousing him to come inside, it seemed he was awake but he just wanted to stay there in the Jeep holding my thigh. I finally had to carry him inside. I hoisted him over my shoulder and could detect a stiffening member begin to rise in his tight wranglers pressed deep into my chest. I took him inside and up the stairs, I dropped him on the bed, he stirred, then frantically he began to undress himself and didn't stop, until he was butt naked, with a raging hard on. He demanded I strip and get in bed with him, as he said, "to help him stop the room from spinning."
We held each other for many, many hours, until sunup. My moustache grazing past his lips his warm hairless chest against my hairy chest, our lips just millimeters from each other. I could feel his cock pressed firmly against mine, and at it would rise and fall with his conscientiousness. He would intermittently slide his thigh in between mine as he emitted these gentle sounds of pleasure. Each time he did that, there was this electric sensation of our cocks re-engaging as he slid his thigh back. I can still, to this day, remember the intense feeling of cumming on his dick, our cock heads rubbing up and down, slathered in hot cum, and the feeling of him as his body jerked uncontrollably as he unloaded his first, of many, loads. It wasn't until almost morning, some 5 hours later that we let go of each other. Our cocks were drenched in both sweat and cum, there was some dried cum that made the pubic hairs stick together. We had released loads all night long. He looked down at our moist members, then back into my eyes, I knew there would be a bond between us forever. We were both still semi hard and he suggested we both clean up each other in the shower. I was only glad to oblige. That was the longest shower I have ever taken! The problem was this was 2 weeks before graduation, and I never heard from him again. I did hear from some frat brothers, later, that he is a successful Lawyer in Dallas, married and with 5 daughters...
There isnít a day that goes by, that I donít think of him, and feel a rise in my shorts. I can only hope that we can meet once again, if not to remember our experience, but to maybe relive it!
I have read other posts on the site, and I can definitely relate to many of the feelings. The sense of loneliness, and feeling lost, having society make us feel we don't belong. Not anymore. I am looking forward to, and am proud to say I am, a Frot Man.
I have published a few poems, and this has inspired me to create one for our site. I hope you enjoy it.
Robert
Frot Warrior
Two men to meet, by chance is sweet,
A helping hand is all we seek,
A partner's trust, is all to gain
Complete the pair deletes the pain.
Cock to cock, chin to chin,
Let thy lover lay within.
Thigh on thigh, face to face,
Equal love is no disgrace.
A warrior is he, who loves this way,
No need to wander aimlessly astray,
Chose well and wise, a lover will stay.
As both then keep predators at bay.
A cock communion, holy it is,
The love of frot, is only his.
Grow old together healthy and wise,
All that's needed is in minds' eyes.
Warrior love between two shall stand,
The test of time, against anal ban.
Not needed is that slave ritual lust,
Best kept out, or turn to dust.
Two men to meet is all to gain
Complete the pair deletes the pain.
R D Gonzalez 7 '05


---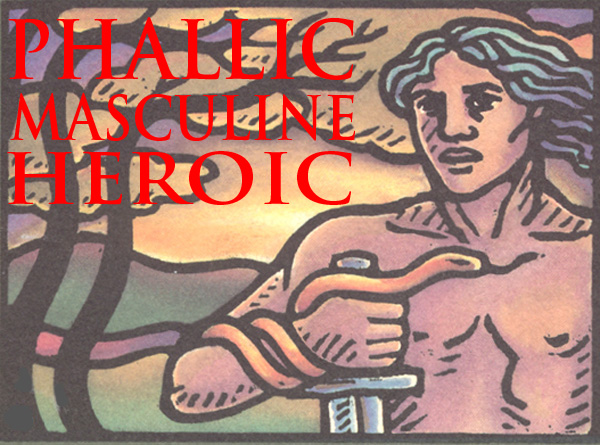 ---
Add a reply to this discussion

---
Back to Personal Stories
---


AND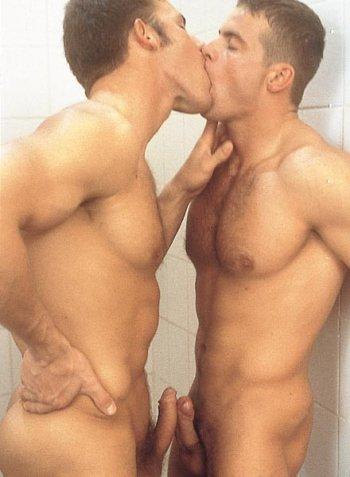 ---
Warriors Speak is presented by The Man2Man Alliance, an organization of men into Frot
To learn more about Frot, ck out What's Hot About Frot
Or visit our FAQs page.
---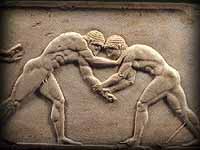 | What's Hot About Frot | Hyacinthine Love | THE FIGHT | Kevin! | Cockrub Warriors of Mars | The Avenger | Antagony | TUFF GUYZ | Musings of a BGM into Frot | Warriors Speak | Ask Sensei Patrick | Warrior Fiction | Frot: The Next Sexual Revolution |
| Heroes Site Guide | Toward a New Concept of M2M | What Sex Is |In Search of an Heroic Friend | Masculinity and Spirit |
| Jocks and Cocks | Gilgamesh | The Greeks | Hoplites! | The Warrior Bond | Nude Combat | Phallic, Masculine, Heroic | Reading |
| Heroic Homosex Home | Cockrub Warriors Home | Heroes Home | Story of Bill and Brett Home | Frot Club Home |
| Definitions | FAQs | Join Us | Contact Us | Tell Your Story |


© All material on this site Copyright 2001 - 2010 by Bill Weintraub. All rights reserved.