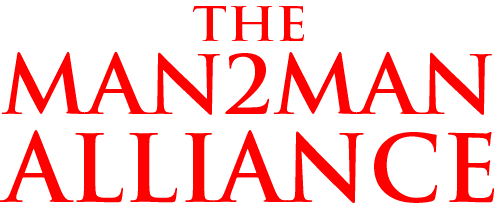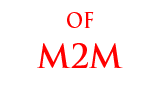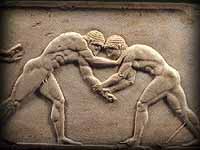 ---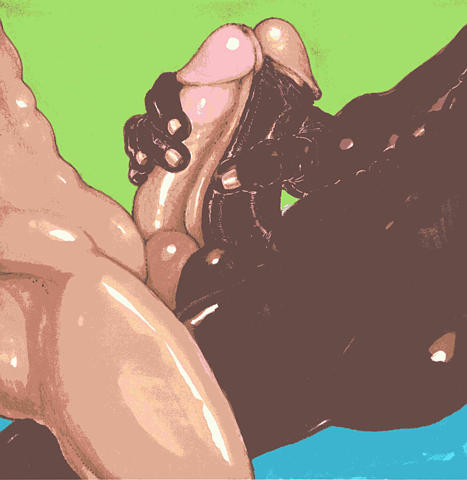 art © by eros v
COCKRUB WARRIOR VIC LOGAN

Cock-bound for Glory
BigBearCockfighter
Posted 10/10/00
One of the sizzling-hottest cock-rubs I ever had was with a good buddy of mine a few years ago, who loved heavy-duty friction as much as I do. One night Chad, I'll call him, stopped over and after a short time we found ourselves naked as usual and heavy into frot.
We were grinding our bodies and our cocks, as stiff as two iron rods, fast n' furiously when I decided to make the cock-rub contest a little more interesting.
I told Chad to kneel up and face me, grabbed a length of ace bandage and started wrapping the ace bandage around the base of my cock and balls, then looped it around Chad's. Our cocks were rock-hard as I yanked the ace a little tighter, just enough so that our swollen balls jammed together. I wrapped the rest of the ace bandage around the shafts of our two mancocks and as I did, suddenly Chad and I realized that we were getting even harder.
Man, it was super! What a feeling, what a fantastic sensation caused by having the flesh of our manhood bound tightly like that, feeling that our engorged cocks were like one big cock we shared between us, two hard, hot, sweaty men bound together as never before! We kept pulling and tugging our tools for a long time ... rubbing our sweat-slick bods together until we couldn't hold it in anymore.
Just wanted to share a great experience with you Cockrubbing Warriors
Vic's Profile:
I'm a husky, furry rasslin cockfighter Bear, ripe 52yo, 5'10", 220# who loves to get nekkid & slam his cock against yours, grind my naked sweaty, hairy body against yours and rub, slam, and swat my Beardaddy cock against yours!!! NJ suburbs nr. NYC, you host. Enjoy going up against other Bears but will cockfight/wrestle you guys who appreciate us Bears.
note from bill: Warrior Vic Logan has also contributed to A Celebration of Life here in Warriors Speak, and is the author of the Bearcub Combat series in Warrior Fiction.
---
Reply from

Belly to belly cockfight

WOW!!!! You and I are cut from the same mold. Have bound my cock to other cocks for grinding humping sweaty body to body frottage cum wrestling matches. Nothing hotter than two masculine men pitting cock against cock, binding them and grinding it out belly to belly, chest to chest, cock to cock, balls to balls to climax or multiple climaxes til one man can't go on.

You interested in taking me on?

email me at Wrestlin Cowboy

Let's grind
---
Reply from warrior rubdicks
That made me hot! I luv rubbing dicks while kissing and rubbing noses. That is very erotic to me. I will try the ace bandage part.
---
Reply from
One of my favorite cock to cock adventures:
I stopped at a rest stop on the Turnpike. It was mid-afternoon and no one was around. I had to piss bad, so went into the little shack of a men's room.
There were only two urinals, with no divider. I stood there taking a longish piss. As I was shaking my dick and about to leave, a burly guy in a lumberjack style shirt walked in. He took a piss, and let out a big groan of relief. (I stood there frozen, daring myself to take a quick peek before leaving.)
When he finished pissing, he just stood there, not moving. I did the same, neither of us daring to glance at each other.
At least three nervous minutes ticked by.
Then, we both dared to glance cockward. Both of us were rock hard. Mine is a thick, seven-incher. His was at least eight inches, and huge.
Without speaking, we turned toward each other and our red, raw, circumcized hot dick heads brushed together. We both moaned softly.
We just started rubbing dickheads, mixing precum and not speaking a word. This lasted at least a half hour.
Unfortunately, we both left with heavy hearts and aching nuts, since a whole family picnic pulled into the rest area and invaded the bathrooms. But, I can still close my eyes and feel his mammoth dickhead on mine!
bill's note: don't miss Warrior HOTDICKHEAD's A Communion of Dickheads here in Warriors Speak.
---
COCKRUB WARRIOR SIERRA MOUNTAIN MAN

Cock to Cock Buddy
Warrior Sierra Mountain Man Posted 3/20/01
When I was in my early 30's I met a buddy to fuck around with. One day when I went over for some hot buddy to buddy sex action he introduced to me a new device he had just gotten. It was a thin soft plastic tube that was inflated. We put our cocks in either side, face to face, and the tube held our cocks tightly against one another. While looking in one another's eyes and holding one to one another we both fucked the tube with cock heads and cocks rubbing up against one another. From that time on every time we got together it was "Get out the inflatable tube, buddy!" It was a hot intense feeling. I moved and lost contact with him. I went to sex stores to try to find one of these tubes, but they stopped making them, or something. None-the-less, I love having my cock up against my buddy's cock while we are looking into one another's eyes and holding on to one another.
---
Reply from
Hey, sounds great. I would love to do this
---
Reply from
That sounds great! I've never used a tube, however, i must agree it feels so wonderful to have your cock next to your buddy. My buddy and I enjoy it each time we get a chance. The look in his eyes just turn me so on and especially when just before we CUM, our lips touch and we are caught up in such joy!
---
Reply from
Warrior Sierra Mountain
Hey guys thanks for the replies. I can only say that the sensations were incredible. Our cocks were locked together in the tube which left our arms open to hold onto one another and to explore one another's bodies while we continually looked into one another's eyes because we were only inches from one another's faces. In the meantime we were able to move our hips pumping into one another and our cocks stayed in placed right up against one another all the time
---
Reply from
Man oh man. The feel of two cocks rubbing head to head makes me hard. I luv to rub cocks and french kiss and rub noses. Those three things make me harder then hell. Cum in no time. Any others enjoy rubbing noses as well?
---
COCKRUB WARRIOR BIGGUN

Virility and Manhood
BIGGUN Posted 1/30/01
Great to know there are other guys so turned on by this aspect of male sexuality. My most memorable frottage was with a mate who is an ex-cop. I visited him one day dressed in camo pants (on purpose) and he got into his cop pants. Being partly in uniform, it was natural that we would try some one-on-one combat. We were both naked from the waist up but had boots on. A serious tussle ensued on the floor, and we were soon grinding our crotches into each others hardons, getting pinned, doing some boot licking, lots of nipple torture and grinding our big bulges into each other's faces. But it was the cock grinding that most turned me on, and after getting seriously sweaty we released our hard monster cocks out the flys of our pants and continued to wrestle, straddling each other and forcing our dicks into each others hungry mouths.
Eventually the pants also came off and he put handcuffs around our balls and cocks. I had never done that before and was amazed how much movement we still had. Our fighting continued, locked in this incredible embrace, sweat dripping on swollen tits, pinning each other down, rubbing cocks along hot ass cracks, before we both erupted as our cocks ground against each other and our tongues wrestled with passion. I was on top of him and my legs were spread wide. He slapped and grabbed my ass, pulling me closer in, pushing his huge uncut dick against my throbbing manhood. The pain and pleasure and virility and manhood was just awesome. Our cocks and bellies were creamed with cum and we writhed together to blend our hot juices.
We've had other times together, but nothing like that one. We are both involved with other people, so our encounters are not so frequent.
I want to meet and correspond with other guys who are also turned on by this aspect of their male sexuality. I've got a hot nine inch dick waiting to explode over your pulsating cock. Give it to me hard, like a man
bill's note: don't miss Warrior BIGGUN's Soldier Cockfight here in Warrior's Speak, and remember dude

AND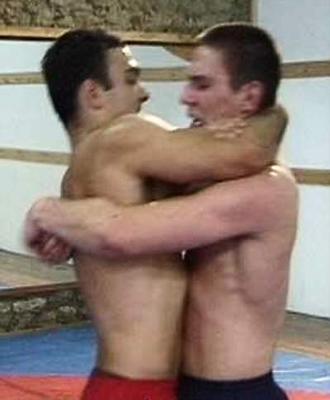 ---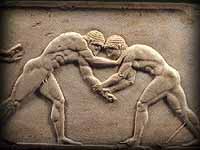 | What's Hot About Frot | Hyacinthine Love | THE FIGHT | Kevin! | Cockrub Warriors of Mars | The Avenger | Antagony | TUFF GUYZ | Musings of a BGM into Frot | Warriors Speak | Ask Sensei Patrick | Warrior Fiction | Frot: The Next Sexual Revolution |
| Heroes Site Guide | Toward a New Concept of M2M | What Sex Is |In Search of an Heroic Friend | Masculinity and Spirit |
| Jocks and Cocks | Gilgamesh | The Greeks | Hoplites! | The Warrior Bond | Nude Combat | Phallic, Masculine, Heroic | Reading |
| Heroic Homosex Home | Cockrub Warriors Home | Heroes Home | Story of Bill and Brett Home | Frot Club Home |
| Definitions | FAQs | Join Us | Contact Us | Tell Your Story |


© All material on this site Copyright 2001 - 2010 by Bill Weintraub. All rights reserved.