Real Oneness and Satisfaction
1/10/2002
Thanks Bill,
I was born and raised in a small town, but did escape for 12 years to SF (Where else?) I moved back 9 years ago. I say I'm coming out of hiding for several reasons, the most glaring is that except for one year, I've been celibate for 13 out of the last 14 years...yes, believe it.
Their are many reasons for this...getting herpes from one lover in 1982...another lover leaving me and completely dropping out of sight in 1988, but probably more than most, I always felt so different because I never liked to fuck or be fucked. (+ I have a horrible gag reflex.) Needless to say, I saw my options of partnering as very limiting and just got to the point where I no longer wanted to bother, being very content with a (very) active 'fantasy' sex life.
As I approach 50 this year I decided to kick myself in the rear, lose some weight, get in shape and get social again. The 'sex' thing nonetheless was still bothering me, but I decided I would just have to be upfront with my desires and 'limitations' with people and just try to 'go for it'! Previously I had only heard it referred to as the 'Princeton Rub' and usually only spoken of as foreplay. I always knew it was MUCH more than that and when I discovered it had a name (frottage) and found your site I was truly blown away. I figured there had to be some others out there, who felt about sex as I do, but I'm only now realizing that there LOTS of men out there who know the real oneness and satisfaction frottage between two men can give. (Some of my best early sex memories are of being wrapped up tight with my lover and achieving simultaneous orgasm without even trying.)
So here I am now, 49, arguably in the best shape of my life and getting better (I've actually had friends tell me that acquaintances of theirs are asking Who the 'hunk' is?) ...Geez, I don't know if I'm ready for this or not, but ready or not, I'm ready to come out (again), and even if I don't make any connections for the rest of my life, I feel good about myself, knowing that I'm not that different, I'm not alone, and the possibility of the 'right circumstance' (finding someone to be with for a night or a lifetime) still exists.
And for that I want to thank you Bill!!!
If you want to put the above on your Personal Stories page you have my permission.
I fully support you and your website and what it stands for. I hope to contribute more in the near future with a personal ad and some fiction I've written over the last few years (idle hands), but for now I just wanted to say THANKS!
Keep up the good fight.
Warrior gaifrot
P.S. I've read a few of your essays so far and love them.
---
Re: Real Oneness and Satisfaction
1/10/2002
You're welcome warrior gaifrot dude.
As you'll see once you begin to read the posts here and in Warriors Speak, it's not uncommon for guys into frot to become celibate -- it's a survival mechanism among us.
But you're among friends now.
COCKRUB WARRIORS RULE
PS
warrior gaifrot lives in northern California.
---
Re: Real Oneness and Satisfaction
1/10/2002
Hi Guy, I think I chatted with you yesterday evening on Yahoo, I posted the link to the Heroes site.
Nonetheless I'm really glad to see your posting. Thanks for sharing your experience and history with us.
You are bye no means alone dude. Many guys, including myself went through a period of celibacy so (I) wouldn't have to deal with the "sexual reality" which was anal sex. But as my self-respect grew and I matured I knew what I wanted and what I didn't want, ANAL SEX WAS OUT PERIOD.
Today, I am pleased to say that I am one happy gay MAN. I've found a club here that I can relate to and participate in, a cause I STRONGLY SUPPORT AND BELIEVE IN, and guys who I am meeting who feel exactly the same way I do. NO TO ANAL SEX! I just turned 39 in December, so don't think that 49 is over the hill, far from it.
Keep doing what you're doing Guy, and YOU WILL FIND HIM OR PERHAPS HE'LL FIND YOU. NEVER GIVE UP HOPE OR THE NOTION OF MAN TO MAN LOVE. IT EXISTS AND YOU TOO CAN SHARE IN IT, HONESTLY!!
Thanks for your posting again, and WELCOME Guy !
David
---
Re: Real Oneness and Satisfaction
8/25/05
I recently heard from Warrior gaifrot.
He's been married -- to another guy -- for two years now.
Way to go Warrior gaifrot dude!




---

AND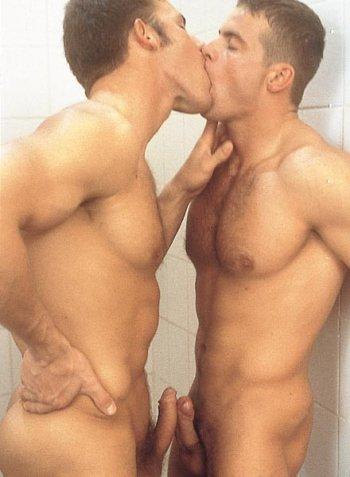 ---
Warriors Speak is presented by The Man2Man Alliance, an organization of men into Frot
To learn more about Frot, ck out What's Hot About Frot
Or visit our FAQs page.
---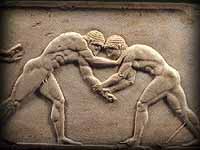 | What's Hot About Frot | Hyacinthine Love | THE FIGHT | Kevin! | Cockrub Warriors of Mars | The Avenger | Antagony | TUFF GUYZ | Musings of a BGM into Frot | Warriors Speak | Ask Sensei Patrick | Warrior Fiction | Frot: The Next Sexual Revolution |
| Heroes Site Guide | Toward a New Concept of M2M | What Sex Is |In Search of an Heroic Friend | Masculinity and Spirit |
| Jocks and Cocks | Gilgamesh | The Greeks | Hoplites! | The Warrior Bond | Nude Combat | Phallic, Masculine, Heroic | Reading |
| Heroic Homosex Home | Cockrub Warriors Home | Heroes Home | Story of Bill and Brett Home | Frot Club Home |
| Definitions | FAQs | Join Us | Contact Us | Tell Your Story |


© All material on this site Copyright 2001 - 2010 by Bill Weintraub. All rights reserved.