I always thought that cock rubbing and cock fighting with a buddy was the coolest thing. I did it a few times even when I was a little kid with friends and cousins. I still do it with buddies from time to time. It's just a man to man thing. In Portland, there's a Jack-off club in Downtown Portland located right behind The Eagle. It's not a bathhouse or anything like that. Just a bunch of guys who like to give each other hand jobs (I like it with a little olive oil like the ancient Greeks used to use) and a lot of dick on dick cock challenges and cock fights. It's really cool to be inside a circle of 8 to 10 guys with their cocks all up and hard, while you're cock fighting another dude with an oiled up cock. Just hardcock to hardcock, no hands. Usually arms are tied up like wrestlers at the start of a wrestling match.
My cock is so sensitive that I usually cum first, firing my wad all over my cockfight opponent. Sometimes the dudes surrounding us will shoot loads just as I'm shooting mine. And I'll end up with cum driping down my legs and butt. I can cum 2 or 3 times in a row so I usually take on another cockfighter right away until I'm spent and can't take on another challenger.

When I'm wrestling, I love mounting my opponent -- both of us buck naked of course. (The dominant position gives me an instant hard-on.) Then rubbing my cock on his nice ass while grapevining at least one leg, I get even more turned on as he struggles to get away. The more he fights to get away the faster my cock wants to shoot. Holding his upper body down with a full nelson, I can shoot a load on his back in a few seconds. That feels so fucking good you can't believe it.

I love to shoot my defeated wrestling opponent in the face. Winning a match gives me a hard-on as I win. Course sometimes I end up getting shot in the face myself. Really cool to watch a man pin another man and make him submit to getting a load on his face.
Blood, Sweat and Cum; it's all part of the game.
This boy's been worked over and is defeated. He's about to take a load in the face.

Sometimes I've wrestled dudes naked and to submission; I've started to get a great hard-on as I worked for the pin and the choke hold for the submission. Then, as he submits, I've started cock fucking my man face to face, cock on cock til I shoot on him.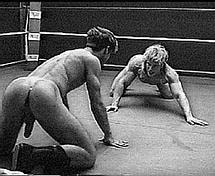 We'll end up combining the aggression of submission wrestling with the awesome climax of cock fighting. Course I've been on the losing end of that too. Either way, it's all for good fun and a great workout.
I remember wrestling around once with my red-headed friend Frank, after both of us getting ourselves drunk at my house, finally getting him to let me suck his big pink cock nestled in bright orange pubic hair. His testicles were the size of golf balls in a loose pink ball sack. I had to use a reverse crotch on him to work him into a pinning position on his back.

After pinning him to the bed I went in for the kill; his cock was a throbbing 8 inch tube of pink meat and a nice fat head. And there was the sweet smell of orange pubic hair. His head would swell as my tongue slid over his head, slowly, again and again. First he tried to pull my face off his cock; then he just let it happen.
For the rest of the night I cock fucked him, Man to Man, face to face. "Franky frankenfurter," I kept calling him, "Take it like a man, Dude! Come on dude, Fight out of it!" Never forget that night! I had wrestled in high school and college and only once did I let him get the upper cock on me that night.
The next day we pretended it never happened and never did talk about it. I think we were afraid of making it official that we had enjoyed each other physically, that would have been too much of an admission to ourselves.
I always dream of getting together with Frank again some day. Hope he reads this.
There's NOTHING like a pink donkey cock in red pubic hair!