'tis the season to be selfish
12-22-2009
For more than a month, I've had an Urgent and Critical Donate appeal on this board.
And for the last month, I've kept Warrior Tom's Challenge Grant offer at the top of this Personal Stories board message list --
for reasons that to me are obvious.
But maybe they're not so obvious to you.
So I guess I'd better spell them out.
This is a very generous offer from Warrior Tom, who works very hard for his living -- at not one, but two jobs -- and yet has stepped forward in order to help the Alliance.
As he said in his reply to the Donate post -- "It won't be easy for me to come up with the grant, but I will, because it's that important."
And that should say it all.
Yet the response so far to both the Donate post and Tom's very generous Challenge Grant has been paltry.
Paltry.
Poor.
Well, you know, it's December, donations fall every December, and that leaves the Alliance in straitened circumstances while the rest of America goes on a spending spree for Christmas.
And that certainly includes you.
Please don't tell me that you're not spending money on Christmas gifts; or that after those have been purchased, you don't get a little or not-so-little something for yourself as well.
Don't tell me you don't do that -- because I know you do.
What we've asked is that everyone donate a small amount -- $10 or $20 per month.
And if everyone did that -- we'd be in great shape.
Instead almost none of you do it -- and the analists and heterosexists walk all over you.
You think you've accomplished something by sitting on your wallet.
You haven't.
As you know, I've been in two Frot relationships --
Warrior Relationships --
with handsome and noble MEN --
MEN --
MEN -- real MEN with real BALLS who didn't and don't hesitate to support a good cause when they see one --
I've been in two Warrior relationships with such MEN --
in my life.
That's what you all say, at least, you long for.
Fine.
Here's the truth:
I didn't get there by being mean and stingy and self-centered -- which is what you are.
I got there by understanding that participation in my community is NOT optional.
I got there by being an activist and speaking the Truth as I saw it.
I put myself 100% and more behind my community.
That's what I did and that's what I do.
For example -- how did I meet my late lover Brett?
Do you know?
The answer is, I met him as part of my anti-violence work, in which I was promoting a self-defense course for l and g people.
I was promoting it with every ounce of energy of my being.
Because that's what I do.
I wasn't paid to do it.
I did it -- because it was the right thing to do.
Most people wouldn't do it.
They wouldn't go near it.
It was gritty and it was thankless -- since most gay-identified males cravenly and slavishly wanted the police to defend them and refused to believe they had the power to defend and protect themselves.
Just as -- later -- with AIDS, they demanded the government do something rather than take responsibility for their own literally shitty "sex" lives.
So -- they wouldn't get involved -- and they wouldn't do the one thing they could have done which would have given them a fighting chance at survival.
Instead, they sat on their hands -- JUST AS YOU ARE NOW -- while a hideous wave of violence broke over their so-called community.
Gangs -- never a fair fight -- using tire irons and baseball bats to assault lone individuals.
That's what was going down.
I FOUGHT BACK.
And I kept pestering Brett, who was then the editor of the gay paper in NYC, but whom I'd never met - I kept pestering him over the phone -- to do a story on the self-defense program.
He kept putting me off.
Then he said he'd do something.
I assumed he would send a reporter.
No.
He came himself -- because he didn't have a reporter -- he had far fewer resources than I'd realized.
That's how we met.
He came to cover the program -- which I was ceaselessly promoting.
I met Brett because I was working hard to promote something I believed in.
A CAUSE.
Not a pair of shoes or a new I-I-I me-me-me phone.
But a CAUSE.
That's what appealed to Brett.
As it did and does to Patrick.
That's how I met these guys.
By doing something I believed in.
With all my might.
But YOU -- won't even click on a link to send a $10 donation.
Let alone do a Regional Chapter -- which is your best real-world bet.
Your strategy -- which is basically greed-driven -- of holding on to your money and doing nothing else --
will NEVER work.
You will ALWAYS be alone.
And so far as I'm concerned, you deserve to be.
Recently, I got a letter from a disgruntled site visitor -- he's an atheist and he got pissed at me because I wouldn't take a bribe from him --
specifically, he wanted me to promise him I'd post some atheist rant if he gave me money --
well, No -- I'm not for sale and neither is the Alliance.
But, small soul that he is, he still comes to the site -- see, I don't care about atheist but I do care about honorable and he's dishonorable -- he uses the site even though he won't support it -- and he saw the most recent Donations post and said, in effect, Good, I hope you go under.
Nice guy, huh?
And a great representative of his secularist cause.
But here's the deal:
I know how to live poor.
I've had to in my life, because I've had to choose between Truth and Money.
And Truth is all that interests me.
So -- I won't go under.
But you -- that's the YOU who won't donate -- you'll go under.
In the sense that you'll never have the Manly, Masculine, Man2Man relationship that you claim to die for.
You'll never have that.
Because you refuse to understand that to get what you want -- you have to give.
Nevertheless -- while you're racing round the web, doing your holiday whatever, I suggest you stop by our Donations page
http://www.man2manalliance.org/donate.html
and Donate.
And for a few seconds, at least, serve the Spirit of the holiday, rather than your usual gods, Baal and Moloch.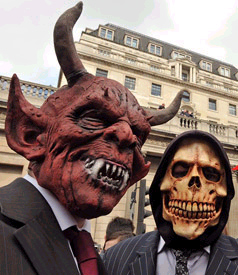 Yeah, those are your gods -- demons really.
That's what they look like.
On a good day.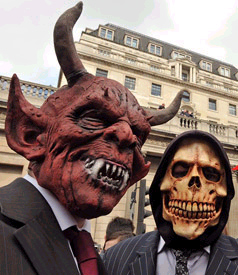 Still not convinced, miserly dude?
You better read on.
You see, Socrates said that
Heaven and Earth and Gods and Men are held together by communion and friendship, by orderliness, temperance, and justice.
NOT by greed and self-advantage -- but by
"communion and friendship, by orderliness, temperance, and justice."
He said it because he was in a culture war with those who believed in greed and self-advantage --
and SO ARE WE.
Once again, the war is between those who believe that society should run on greed -- and those who believe it should run on community -- that's the war.
And you need to connect the dots between analism and greed and HIV.
Because the inexorable spread of HIV was the result of a consumerist view of sex and of human beings --
which completely discounted ideas about Fidelity and Masculinity and Virtue.
VIRTUE.
MASCULINITY.
MORAL MASCULINITY.

VIRTUOUS VIRILITY

.
An ideology like analism kicks virtue and with it virtuous virility into the gutter.
It's every male - or really every asshole - for itself -- and the devil take the hindmost.
Which the devil does.
Every time.
Every time.
There's no fellow feeling -- and no huMANity -- in such a philosophy.
And what's more, dear reader, dear darling boy -- there are those who would turn Frot into the same thing.
They'd make it femmy frot and bunghole frot and God only knows what else.
We're the bulwark and the sole bulwark against those creeps.
And you're doing everything you can to weaken us.
WHAT IDIOTS!!!
WHAT TITANIC FOOLS!!!
HAVE YOU LEARNED NOTHING FROM ALL THE DISEASE AND DEATH THAT SURROUNDED YOU AND NIPPED AT YOUR HEELS FOR SO MANY HIDEOUS YEARS?
YOU THINK THAT CAN'T COME ROARING BACK IN A HEARTBEAT?
OHHHHHHHH, YOU HAVE SO MANY LESSONS TO LEARN AND NONE OF THEM, NOT A ONE, WILL BE PLEASANT.
Baal and Moloch and every other shitty spirit -- what the Greeks called kako [shit] - daimonia [spirit] -- kako-daimonia -- a shitty guardian spirit which is what you've earned for yourself -- those shit spirits watch you with great pleasure and even joy, knowing how utterly you'll be destroyed and how many you'll take with you.
FOOLS FOOLS FOOLS FOOLS FOOLS FOOLS FOOLS
You're stingy and mean and self-centered and above all STUPID.
And the Shit-Demons LOVE YOU.
Oh yes.
You're their favorite boy.
And they'll reward you by covering you in their toxins and leaving you to suffocate in their waste.
They'll dance around you as you gasp for breath in their filthy fetid fecal air.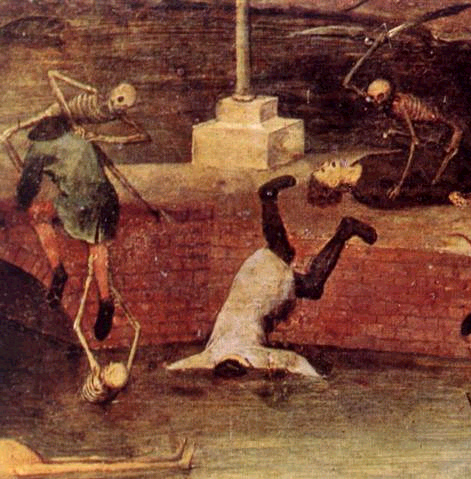 But it'll be too late.
Your Life will be gone.
And in the next life, stripped of your gym-built body, your house, your cars, and all your other consumer garbage and crap -- [as well as any other privileges you may have held of looks, wealth, rank, and power] -- you'll stand naked before God -- THE WARRIOR GOD -- [your naked soul scarred by all the acts of injustice and cowardice and evasion which characterized and indeed dominated your life] -- and be condemned to the lowest circle in Hell.
[You'll stand naked before THE WARRIOR GOD -- and be condemned to the lowest circle in Hell.]
He'll point at you and your shriveled penis and shrunken balls and say --
DIDN'T YOU KNOW YOU WERE A MAN?
DIDN'T YOU KNOW IT WAS YOUR DESTINY TO BE A WARRIOR?
TO LIVE AND FIGHT ALONGSIDE YOUR WARRIOR BROTHERS?
And what will you say?
Oh no Lord, I thought, I thought, I thought I was to spend my life in "rational self-interest oriented to unlimited personal gain" --
Dr Greenspan told me so, and he was a great and wise man among us.
NOOOOOOOOOOOOOO -- will roar the WARRIOR GOD
He was a fool -- he trusted in markets and greed, the province of the shit-demons --
But for MEN --
THE WAY OF THE WARRIOR IS THE WAY OF SALVATION.
And now, for rejecting your Masculinity, your Manhood, and your Warriorhood, you'll spend all eternity as lonely as you were in life.
At the lowest point in hell's bottomless pit.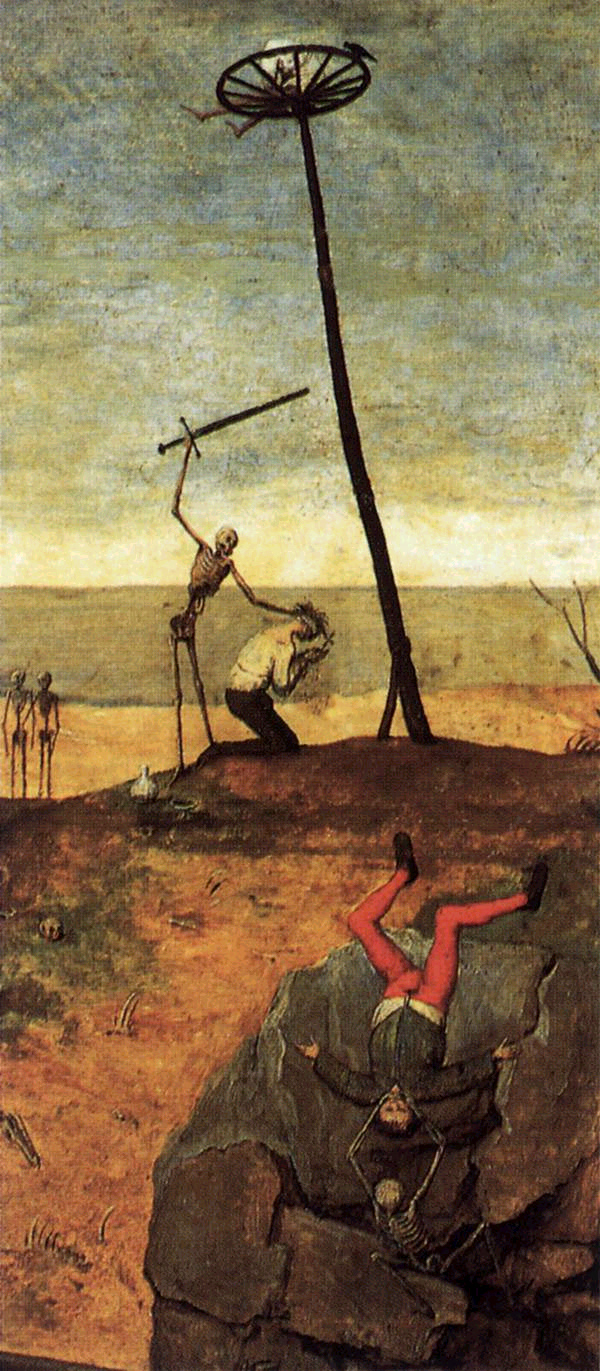 Haplessly and hopelessly trying to climb your way out.
And NO MAN, NO WARRIOR will come to your aid.
Because, when you were alive, YOU REFUSED TO HELP YOUR FELLOW MEN.
And just before you're thrown into the pit, you'll have a glimpse of the entrance to the Isles of the Blest.
There you'll see Strong, Noble, Caring, and Decent MEN, radiant in their Brave Male Beauty and Sacred Masculine Pride, blessed and blessing all around them with Warriorhood and Brotherhood, walking joyously through a gate emblazoned with these words:

And through another portal, emblazoned with these words, you'll glimpse Warriors joyously testing their Manhood against each other: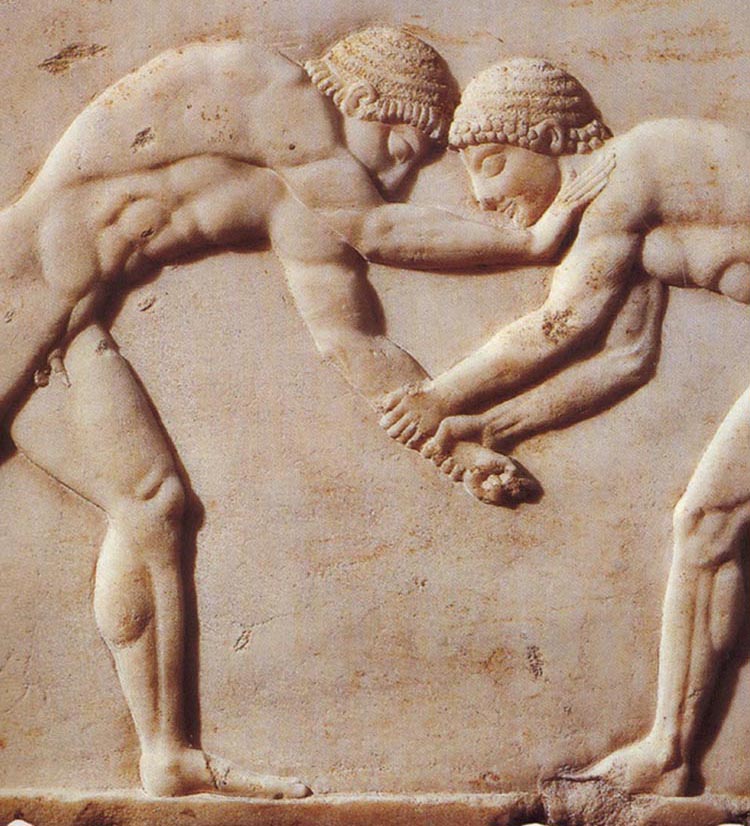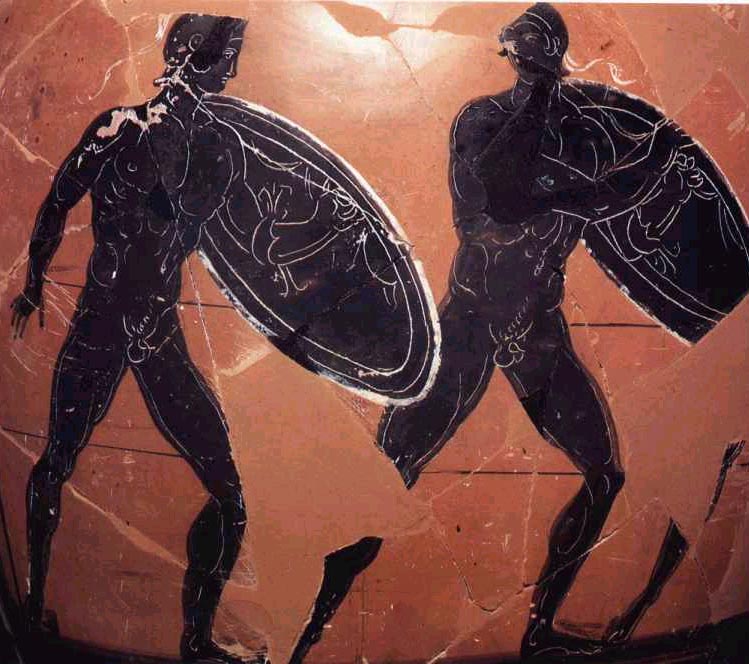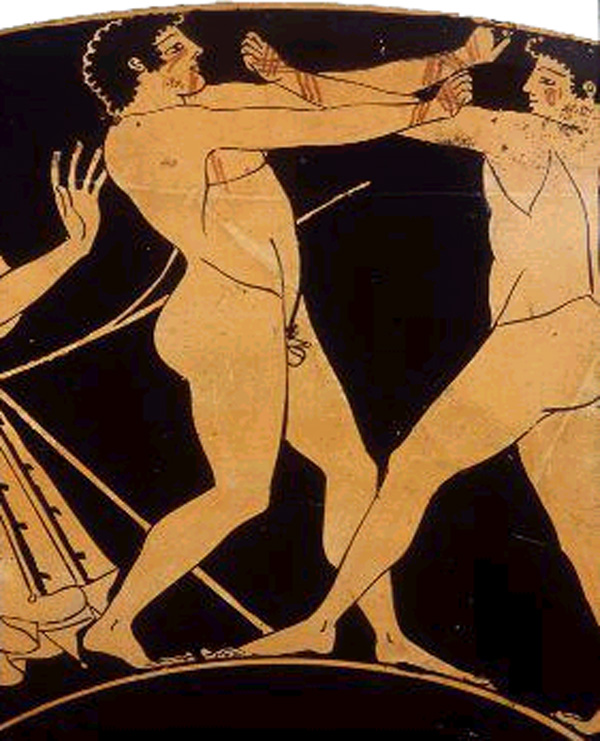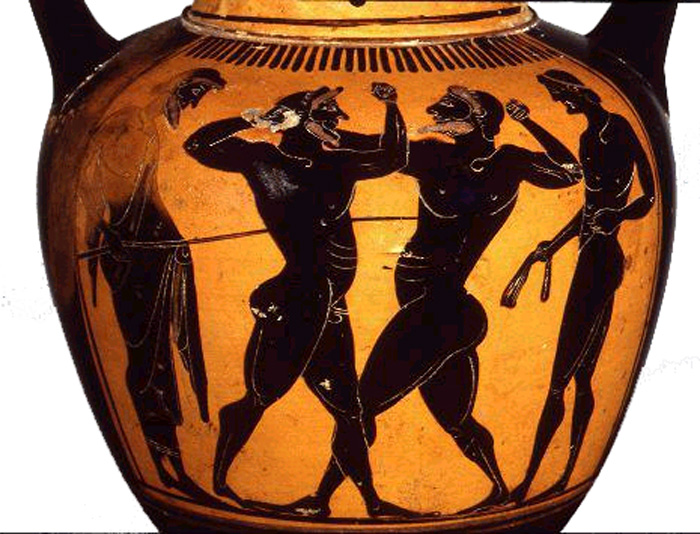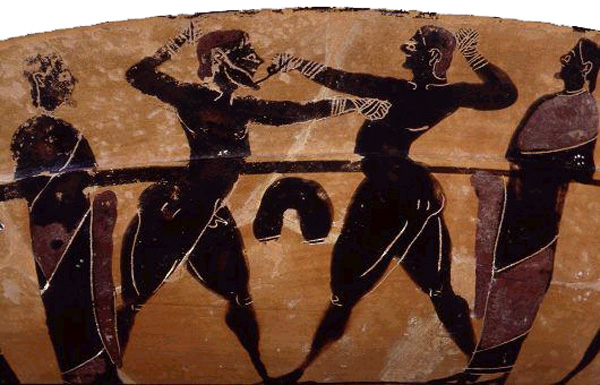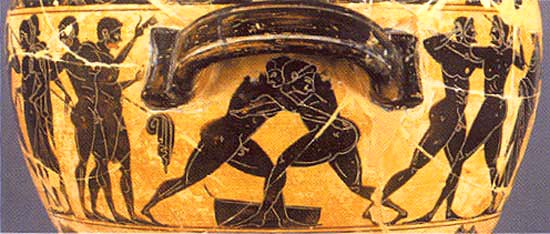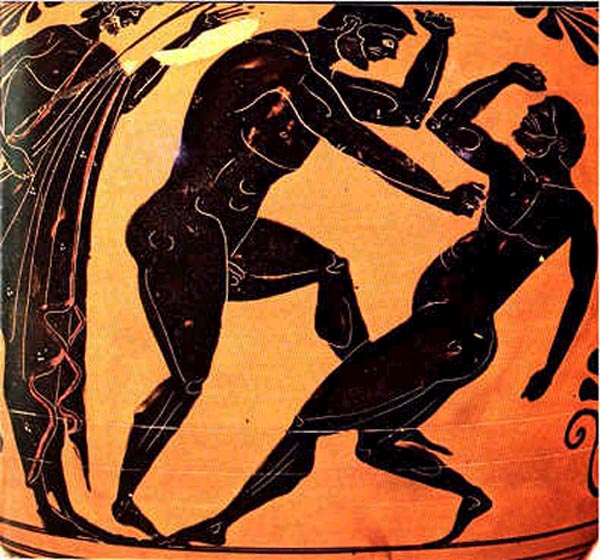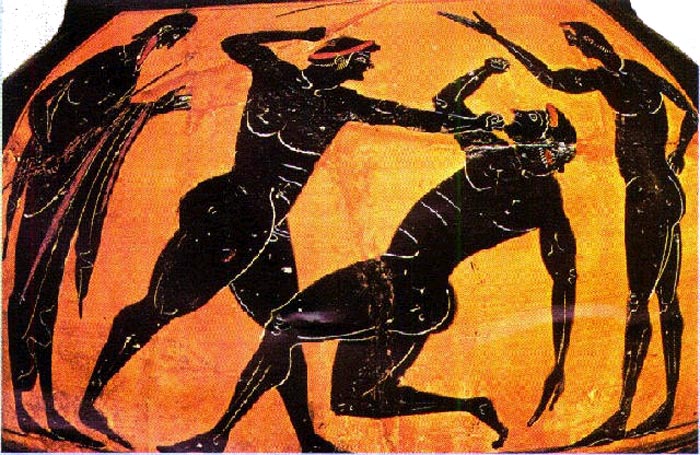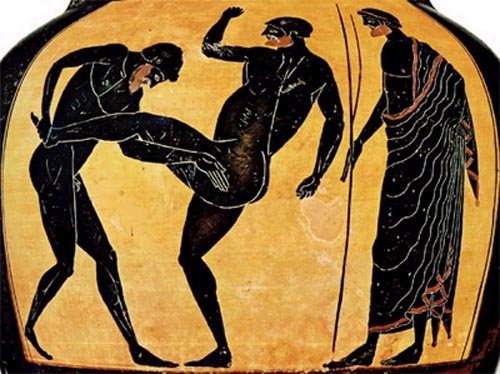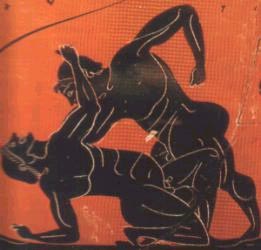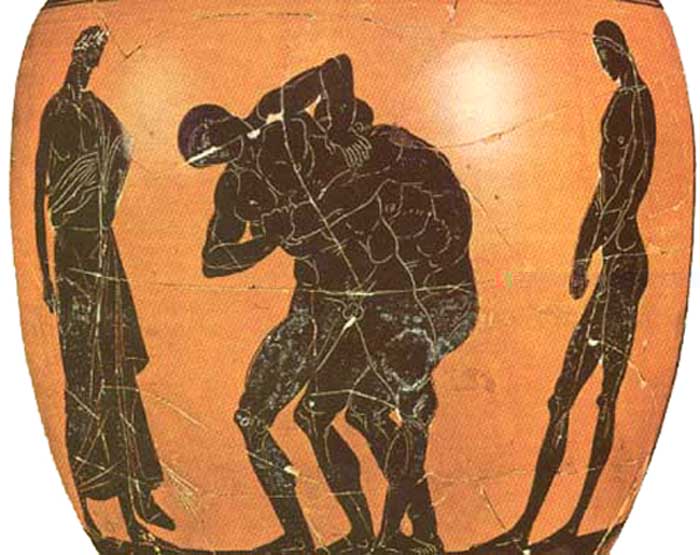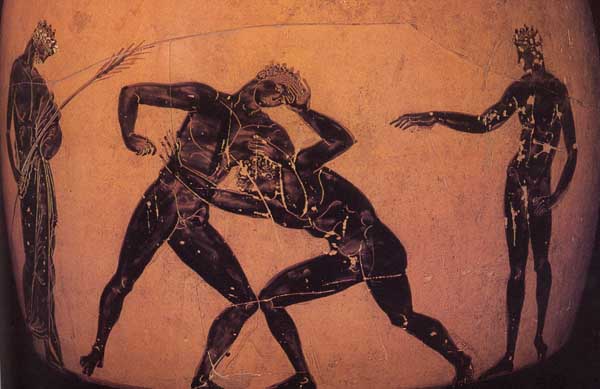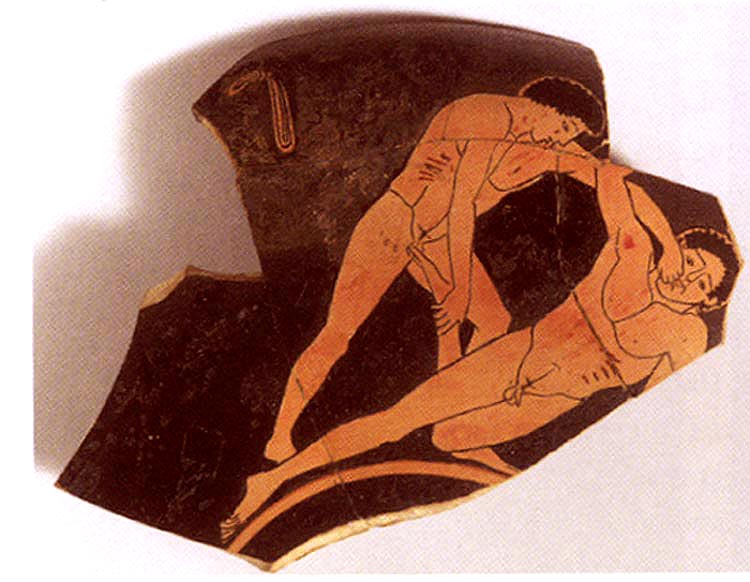 You'll glimpse their strife and their joy, but you won't be permitted to partake of it.
For you, in death AS IT WAS IN LIFE, it will be too late.
Because YOU REFUSED TO HELP YOUR FELLOW MEN --
you'll be thrown into the pit, all hope of Manly Salvation and Warrior Love and Life -- lost.
FOREVER.
That's the meaning of the Christmas season -- FOOLS.
It's an exhortation -- and an admonishment.
Every year don't you watch A Christmas Carol and hear these lines?:
Scrooge: It's just that you were a good man of business.

Marley: Bus-i-ness? MANKIND was my business!
And he neglected it.
Just as MANKIND is YOUR business.
And you neglect it.
Yet the Christmas season is meant to have a Christian -- or, if you prefer, religious -- or if you prefer, spiritual -- meaning of caring for your fellow MAN.
It is not about increasing the gdp by buying gifts for yourselves --
but about selflessness and giving to others.
Warrior Brian Hulme understands that.
He wrote, a story, a Christmas Story, called The Gift, in which two FROT WARRIORS give selflessly to the Holy Family that they and the infant Jesus may escape Herod:
He was and is The Gift to us and The Warriors in return gave their gifts to Him to help Him on His way and keep His mission going.
The Warriors did what Warriors are supposed to do.
They recognized that it was their responsibility as Warriors -- what we call Warrior Altruism -- to help this family in need.
And they were confident that their Gift would be repaid them many times.
That's the message of Warrior Culture.
It's also the message of the World's great religions -- all of them.
But, as we discussed in About Tithing, and as John Cobb, professor of theology at Claremont School of Theology, explains in this article, economic growth and greed have, throughout the world, become their own religion and taken the place of God, while "popular participation in this religion is called 'consumerism'."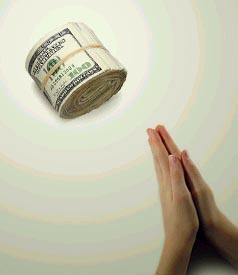 And for you that's what this holiday is about -- "consumerism."
It is for everybody -- the media are full of stories about how "good" -- or not -- the season has been for the -- RETAILERS!
Not for human beings, not for the Love of Man for Man, but for -- RETAILERS.
This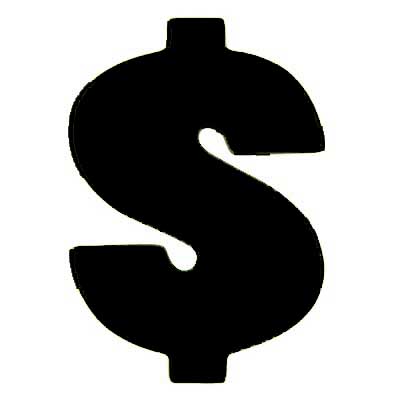 has replaced this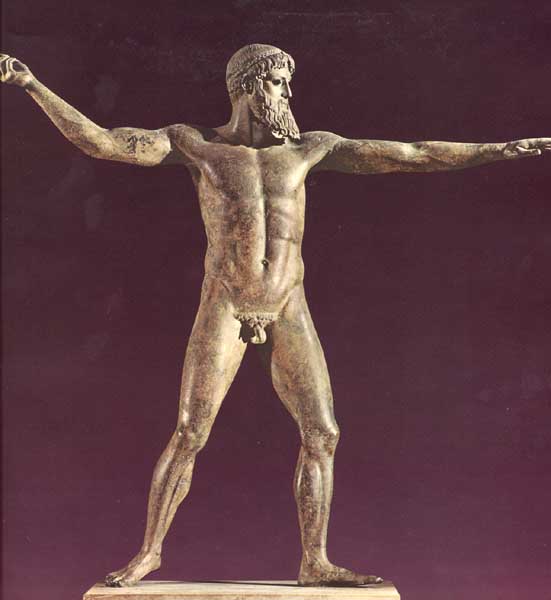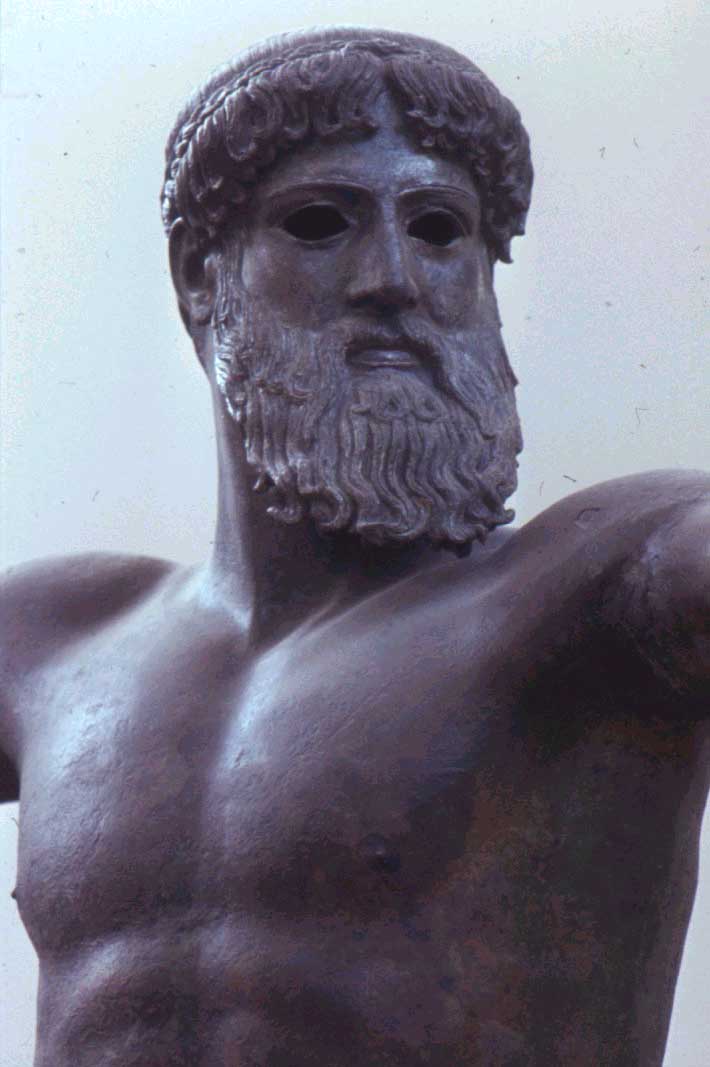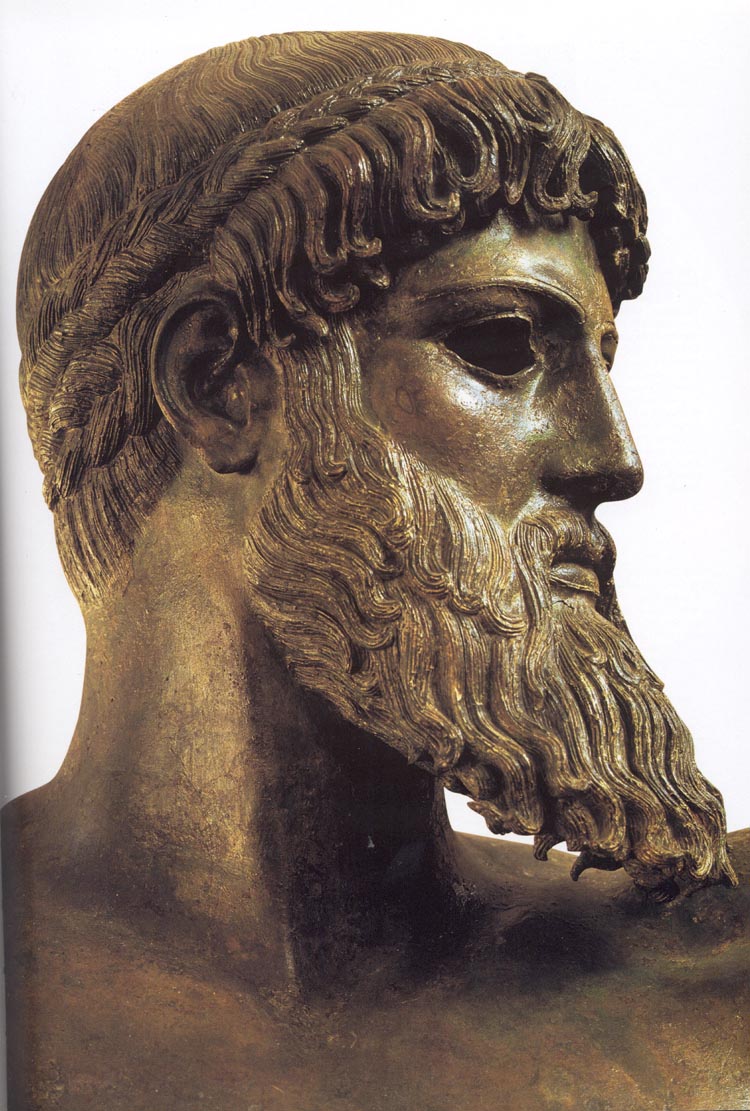 Man and his Gods are no longer at the center of your universe.
This is.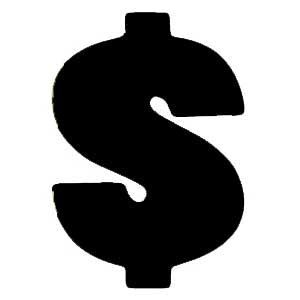 And where does that leave you?
Nowhere.
Because money can't buy you love.
Or, as Carol Channing said in Hello Dolly
And on those cold winter nights ...
You can snuggle up to your cash register.
It's cold but it rings!
And that's all it does.
It's a cold, cold piece of metal, and all it can do is ca-ching.
That's not what you need.
You're a HUMAN BEING.
You're a MAN.
You need other MEN.
You need other WARRIORS.
In your Life.
We call that The Longing for Masculinity.
I get letter after letter from males who are longing for MASCULINITY.
Yet they -- and YOU -- will never have it
YOU'll NEVER have it -- the way you're acting now.
You need to become MEN.
When will that happen?
WHEN?
You'll put it off forever -- won't you?
Yet it could happen -- today.
Bill Weintraub
December 22, 2009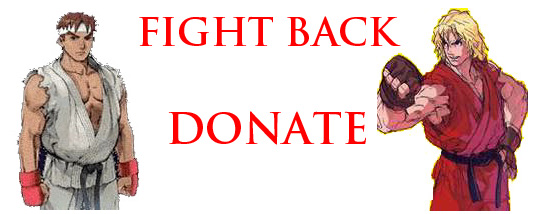 © All material Copyright 2009 by Bill Weintraub. All rights reserved.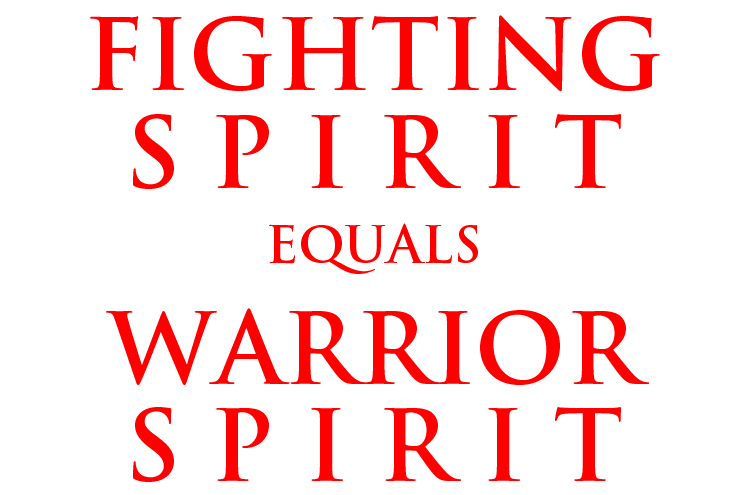 xxxxThis aspect of our work is the one that's most disturbing and indeed frightening to our opponents:

xxxx That we combine the Love of Man with the Love of Fighting Spirit.

xxxx Which is Warrior Spirit.

xxxx The Warrior God is the Guardian of that Spirit.

xxxx You may call him Jesus Christ as Robert Loring does.

xxxx You may call him Ares as did the Greeks.

xxxx What's important is that you understand and acknowledge

xxxx the vital role He plays in Your Life.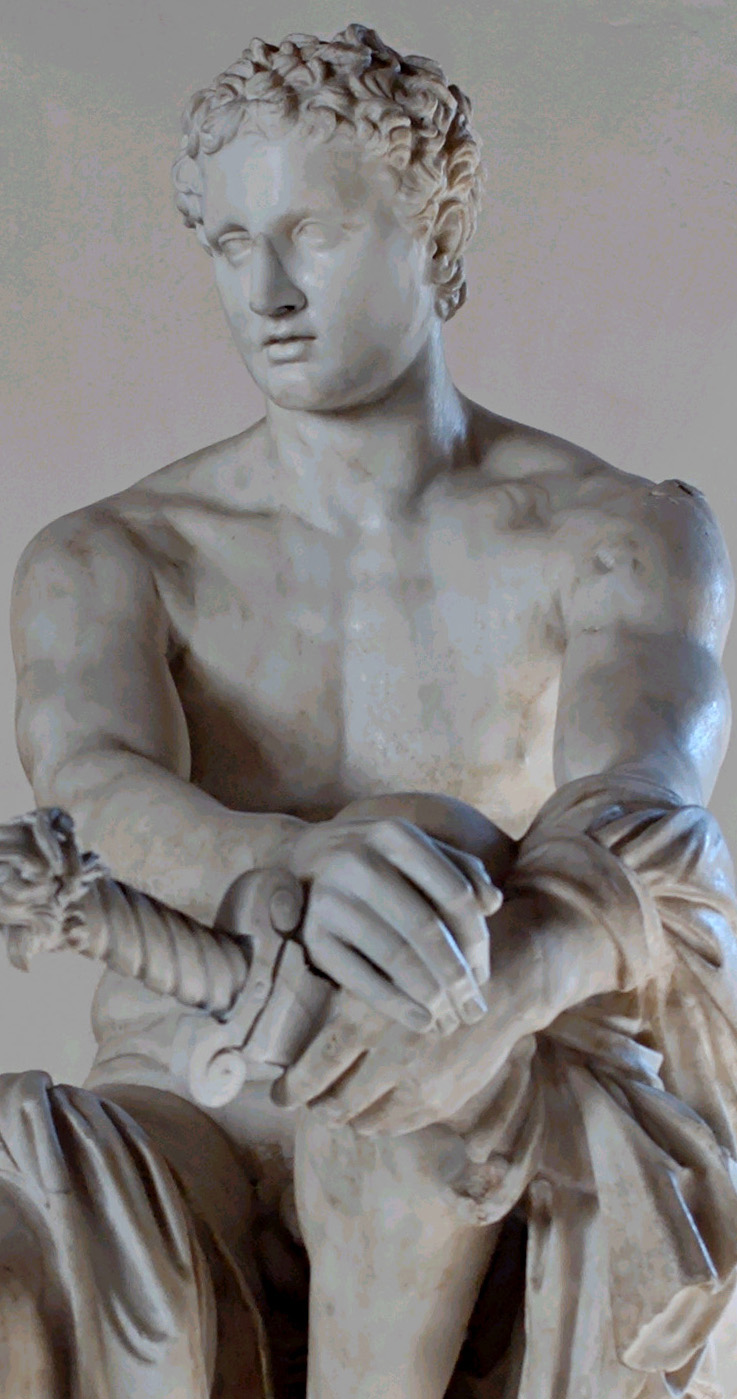 ---

---
Add a reply to this discussion
---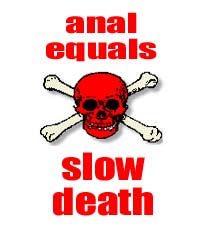 ---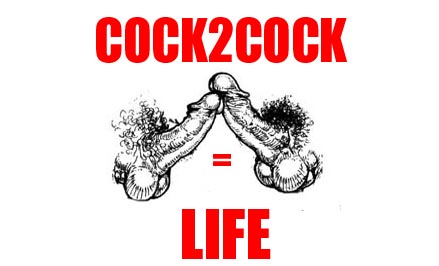 ---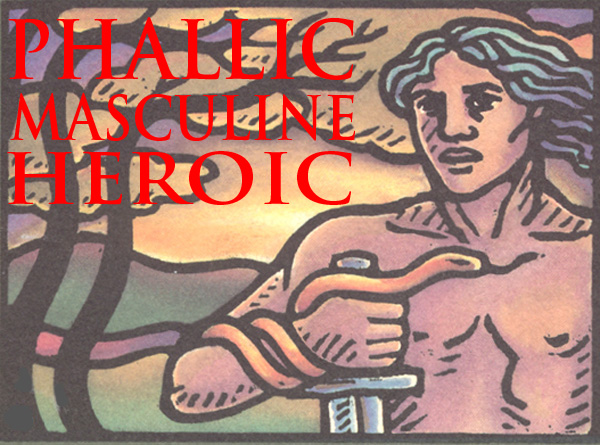 ---


AND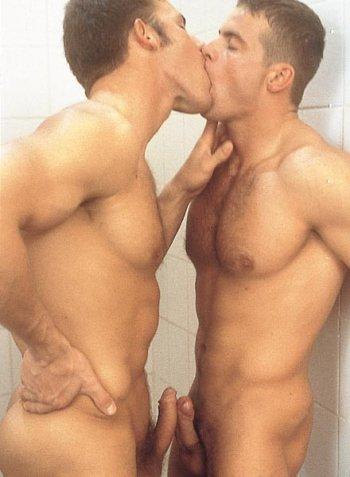 ---
Warriors Speak is presented by The Man2Man Alliance, an organization of men into Frot
To learn more about Frot, ck out What's Hot About Frot
Or visit our FAQs page.
---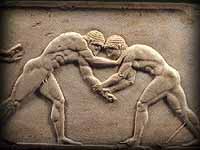 | What's Hot About Frot | Hyacinthine Love | THE FIGHT | Kevin! | Cockrub Warriors of Mars | The Avenger | Antagony | TUFF GUYZ | Musings of a BGM into Frot | Warriors Speak | Ask Sensei Patrick | Warrior Fiction | Frot: The Next Sexual Revolution |
| Heroes Site Guide | Toward a New Concept of M2M | What Sex Is |In Search of an Heroic Friend | Masculinity and Spirit |
| Jocks and Cocks | Gilgamesh | The Greeks | Hoplites! | The Warrior Bond | Nude Combat | Phallic, Masculine, Heroic | Reading |
| Heroic Homosex Home | Cockrub Warriors Home | Heroes Home | Story of Bill and Brett Home | Frot Club Home |
| Definitions | FAQs | Join Us | Contact Us | Tell Your Story |


© All material on this site Copyright 2001 - 2010 by Bill Weintraub. All rights reserved.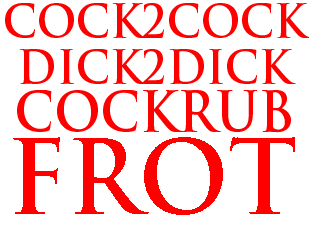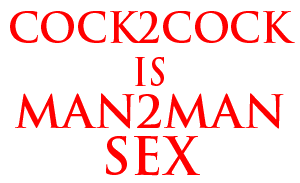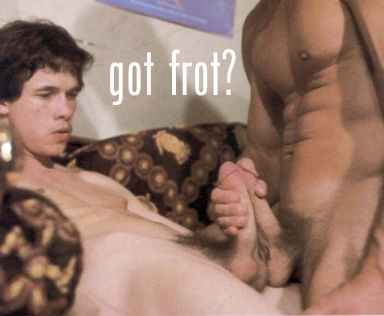 ---

---

---

---

---

---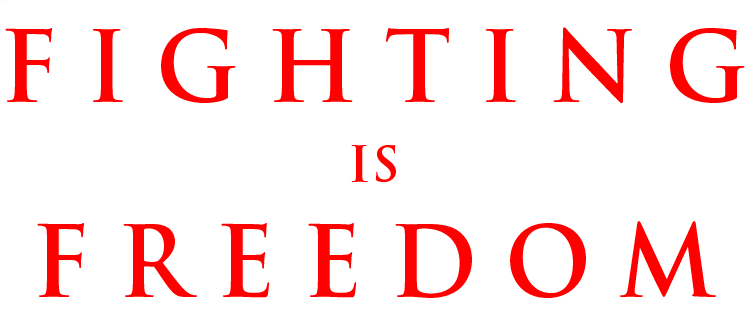 ---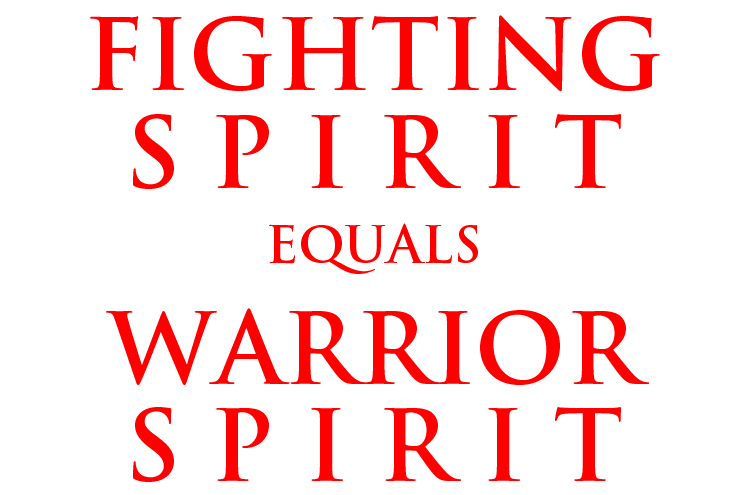 xxxxThis aspect of our work is the one that's most disturbing and indeed frightening to our opponents:

xxxx That we combine the Love of Man with the Love of Fighting Spirit.

xxxx Which is Warrior Spirit.

xxxx The Warrior God is the Guardian of that Spirit.

xxxx You may call him Jesus Christ as Robert Loring does.

xxxx You may call him Ares as did the Greeks.

xxxx What's important is that you understand and acknowledge

xxxx the vital role He plays in Your Life.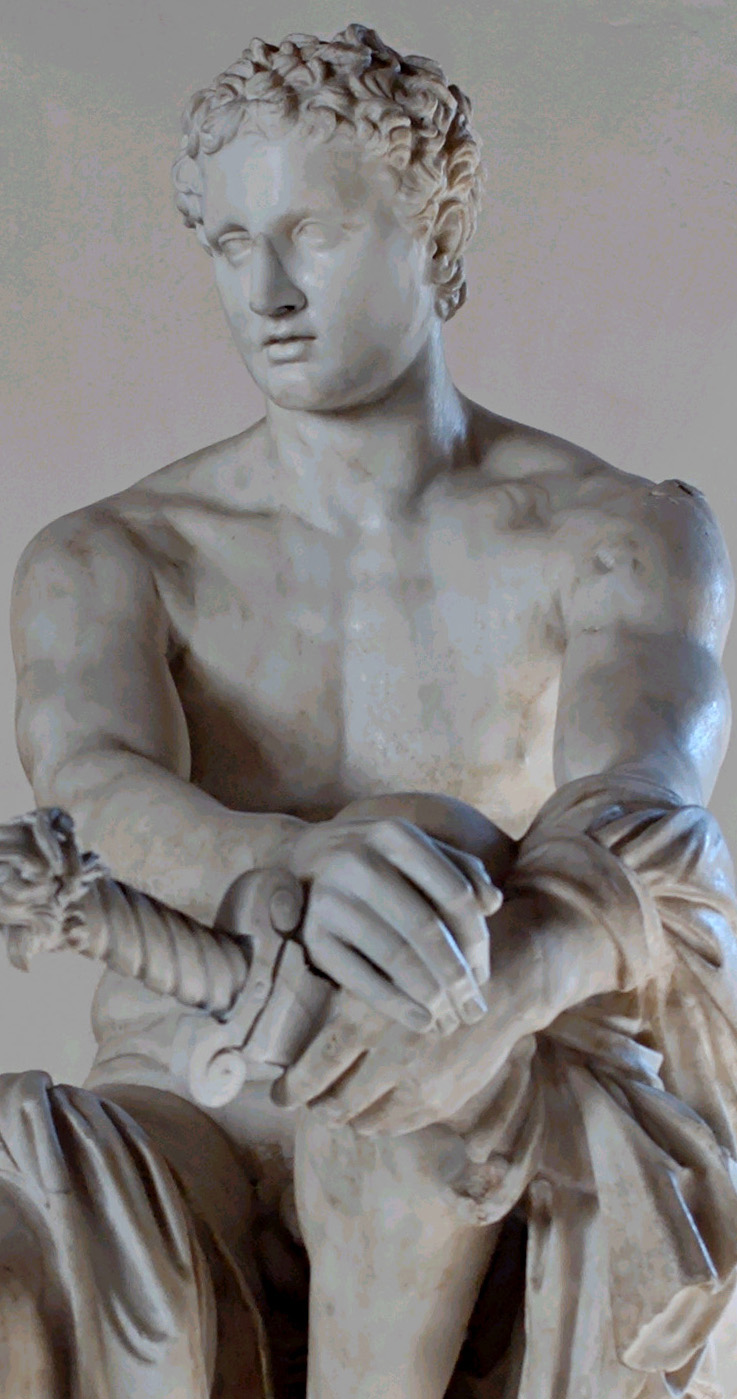 ---